Porsche Travelling Luggage
Having a customised luggage bag that matches your car will let you travel in style and stand out from the crowd. Not only that, but it will also help you avoid lost luggage and will free you from the packing hassle knowing that it fits your car.
If you think that it's too expensive to have a customised bag for your Porsche or any classic car you have, worry no more as Classic Travelling is here to save you from spending too much. We build customised luggage bags for different brands of cars using high-quality and long-lasting materials. You can get yours at a budget-friendly rate.
High-Quality Luggage Bags for Porsche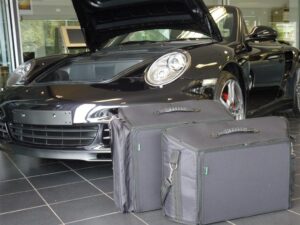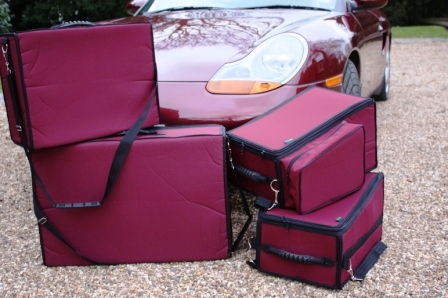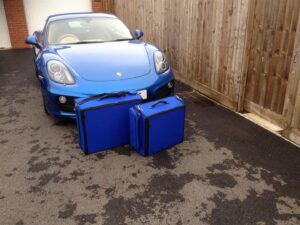 At Classic Travelling, we aim to provide a convenient and luxurious experience to classic car enthusiasts. Since 2003, we have been giving motoring holidays for different kinds of sports, vintage, and classic cars to many amazing places across the UK. We arrange group and individual tours, taking travel and nature enthusiasts to places where they can enjoy their holiday. Years of providing travel tours, we have noticed the inconvenience that our clients experience carrying items of luggage that do not fit in the boot. To provide a hassle-free journey for everyone, we now offer customised luggage bags for different car brands. These customised luggage bags are not only made to make your travelling convenient, but they also make you travel in style.
Our customised luggage bags are stylishly made using high-quality materials. You can choose to have yours either in a mohair canvas or polyester canvas. Polyester canvas is known as a hard-wearing material and is water-resistant. Mohair canvas, on the other hand, is not only hard-wearing, but it is also waterproof, fade-resistant and guaranteed to last for a very long time. These luggage bags also come in different colours, trims, screenprints, as well as sizes to fit various sizes of luggage racks.
Aside from fitted luggage bags, we also create customised suitcases and accessories for different car manufacturers. We can embroider your initials, car logos, and other designs to make your luggage bag and suitcases more personalised.
To order your luggage bag, you may conveniently place your order in our store. You may also call 01264 710 375 and 07712 836 383 or email info@classictravelling.com for your enquiries on our products and services.