Mazda Travelling Luggage
Going on a road trip is something most people love to do during the holiday. But while the trip itself sounds very exciting, the hassle of packing your essentials is a different story. This dreadful task might take away all our energy even before you embark on a road trip, especially if the luggage you use do not fit perfectly into your car's trunk or boot space.
To free yourself from all the hassles and dramas of packing, why not order a piece of personalised travelling luggage specially fitted for your car at Classic Travelling. We create an extensive range of high-quality, bespoke travelling luggage for different types and brands of cars such as Mazda, Audi, Chevrolet, Porsche, and more.
Fitted Travelling Luggage for Mazda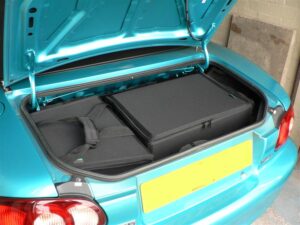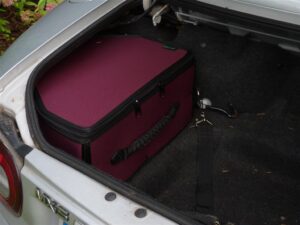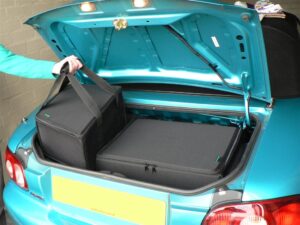 At Classic Travelling, it is our vision to provide our clients with the most memorable and enjoyable holiday trip in the most beautiful and finest roads in the country. We are among the best teams that travel enthusiasts go to for help when they are planning on exploring different places with their sports, vintage, and classic cars. Our group tours are open for individuals and small groups and clubs who are looking to make their holiday trip a smooth and stress-free experience.
Working in the travelling business for many years, we have come to see that well-fitted travelling luggage is necessary for a hassle-free trip. With the fact that it's tough to find a store that offers fitted luggage bags and is often very pricey, we have partnered with Rob Hill, a classic car enthusiast, and expert travelling luggage maker to provide clients precisely what they need at a price that fits their budget.
The travelling luggage we offer is specially measured and designed according to a specific car's luggage space. You can choose whether to have yours created using a mohair canvas or polyester canvas at the colour and trim of your choice. We also use waterproof zippers to ensure protection against rain while travelling. For more personalised luggage, you can also request to have yours printed with your car's logo, name initial, or a flag.
Prepare yourself ahead of your long-awaited road trip by ordering your personalised travelling luggage at our website today. You may also ask for our assistance by contacting us at telephone numbers 01264 710 375 and 07712 836 383, or by emailing info@classictravelling.com.