Maserati Travelling Luggage
Travelling in a distant place needs to carry, not just your self but more of the things you needed for travel. To fit all your stuff inside your car without any hassle and without crashing things out, you will need luggage specially made to fit your car's trunk space. A piece of fitted travelling luggage helps you to make your stuff organised and neat. Thus, your travel is guaranteed hassle-free and enjoyable.
If you decide to get customised travelling luggage, Classic Travelling is the one to look out for. We offer quality and stylish travelling luggage to fit any luxury car, such as Maserati, Porsche, and many more.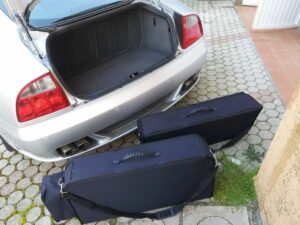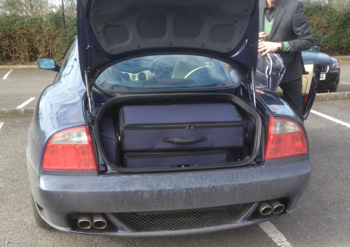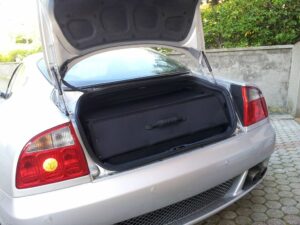 Bespoke Maserati Travelling Luggage
In Classic Tarvelling, our goal is to provide clients with a memorable, happy, and safe holiday travel experience in the most beautiful places in the UK. Throughout our years of providing this service, we have seen the need of fitted luggage bags for our clients so they can bring and pack all their travel essentials in a smooth and stress-free way.
We are among the best luggage bag makers for different types of cars; it might be a sports car, vintage, classic, or new lunch models. We design each luggage to fit precisely into the space of a specific car. Each bespoke luggage ensures secure packing. Since it fits perfectly to your luggage space, putting it inside is so easy, you don't need to spend so much effort and time. Our travelling luggage is made in England using top quality fabrics and materials. They are available in either our standard polyester canvas or the luxury mohair canvas. The polyester canvas is a hard-wearing, water-resistant fabric while mohair canvas is also waterproof, fade-resistant, and hard-wearing.
Our beautifully-made, bespoke luggage is tailored perfectly for your car's model and can be ordered to your choice of colour and trim. We can also personalise your bag by embroidering your initials, car logos, and other designs of your choice.
We also plan a stress-free and enjoyable holiday tour to some of the most scenic destinations in the country. You can always reach us if you need help in arranging your road trip individually or with your family or group.
You can place your order now in our online store or contact us at 07712 836 383 or 01264 710 375 or email us at info@classictravelling.com